I completely disappeared this week, but I like to think I had a good reason. My birthday was this week, and then my mom came to town! We decided to do every girly thing we could think of since my dad didn't come along this time. Today was the pinnacle when we went for tea at the Ritz. Evidently we were dining with somebody important since, as we left, we saw three Secret Service officers and a dog. Welcome to DC, Mom.
I'll get to all three days at some point, but here's the first day I'm missing.
Wednesday was my birthday. I had written over the weekend about the tricky parts of this birthday, but the actual day was amazing. Amazing friends brought flowers to my classroom, brought cake and donuts and cards with kind words. My students sang "Happy Birthday" to me and some of them even brought me a cake. It was an amazing day. I got kind text messages and Facebook posts. I got to talk to some of my favorite people. I spent the whole day feeling loved. Some birthdays seem to go by without much fanfare, but this one was spectacular. I don't know that I've ever had such a birthday full of love and reminders of the way God has graciously brought dear friends into my path and created a community for me at work and beyond.
I think this birthday also reminded me of why we need community. I took my mom by my school yesterday to meet my students and some of my co-workers. As we left, she noted that they were all just nice and interesting people. We talked about how fortunate I am to have a place like that to go every day for work. I agree. I think, over a decade into teaching, the people I've worked with at various schools have shown me how much the people around me make it possible for me to love my job. When I get to spend time with people who are thoughtful about what they do, who have a deep desire to positively impact students' lives, and who genuinely care about the people they work with, it makes the frustrating parts of my job manageable. I know I'm saying that from a place that is much different than many teachers. The frustrating parts of my job are not comparable to the unbearable frustrations of some teachers. So I don't say that to say every teacher could handle their situations if they just focused on the positive. But on days like today, I am reminded of how much I rely on the generous support system I am fortunate to have.
I ended my birthday with two other delightful things: My favorite yoga class and a homemade cherry pie made by two fantastic friends. Having two friends with five kids between them take time to bake me a pie after a full day of parenting/working overwhelmed me. It was great to have the time to be around them, and the pie was a delicious treat. I'll have to talk about how I fell in love with yoga some other day, but it was great to exercise and then eat pie!
As for what one wear's on a 36th birthday, here's the answer:
I decided that it was my birthday, and I could dress how I wanted to. These "girlfriend pants" are really comfortable, and Gap sells them in about a million colors. They remind me that the 90s are coming back strong, but I actually like this part of that time period.
Here's the link.
The shirt is from J Crew Factory, last season. I probably own more white and off-white sleeveless shirts than what is needed, but it is nice to have options, and it means I can rather quickly throw an outfit together if I don't feel particularly creative or if I have a colorful item that I want to wear (like bright pink pants).
Here's a similar option.
And another possibility...
A fancy option
The cardigan is something I'm still figuring out. Banana Republic has some really light weight "boyfriend cardigans" this year, and I like the weight of them, but I'm still figuring out how to wear them. I'm thinking this one might actually look cuter with some skinny jeans and heels, but I'll let you know. I normally have a "one baggy item per outfit" unofficial rule. If my pants are a bit of a looser fit, then I tend to go for a more fitted shirt, and if I'm in a pencil skirt, I tend to pick a silk blouse or something similar to balance out the fitted skirt. I'm not sure where I picked up this rule, but I think it might have been from
What Not to Wear
. I think the mixing of fits helps in some way. Maybe that's just in my head.
Here's the specific cardigan.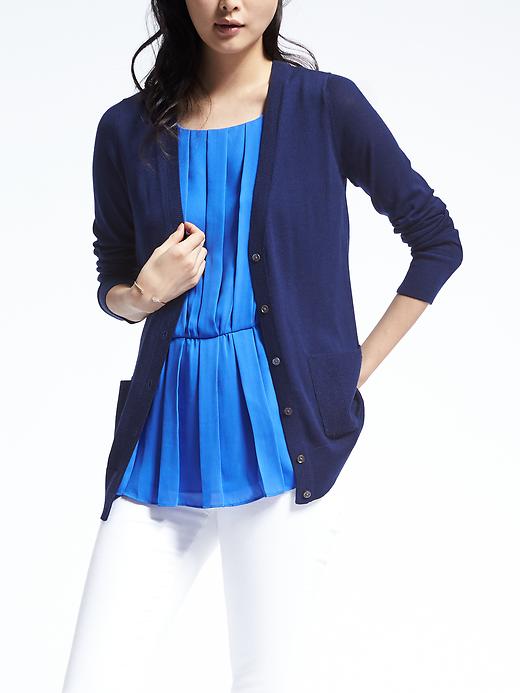 The shoes are Birks, and I'll say again that I love them more than I thought I could love a pair of shoes. There's something in the lining that makes them super soft, and since they're Birks, they do that cool conform to you feet thing that makes wearing them all day delightful. As much as I typically buy cheaper shoes, I am pretty sure these were a good investment. The last pair I had, I wore for years (and even had them re-soled at one point). As much as I walk around during the average school day or the average day in the city, I think these are going to pay off.
As for tips for today--both unsolicited life advice and clothing tips:
1. If your birthday is on a week day, and students find out, it will often be a delightful day full of nice comments.
2. I was reminded that I need to be better about making other people's birthdays special because it meant SO much to me.
3. As for clothes, it's always a good idea to have a pair or two of chinos that you can wear on days when you don't feel like being super fancy. This is definitely a perk of the teacher wardrobe. Even if you decide that you want your teacher wardrobe to fall on the dressy side of the spectrum, know that there will be days when you aren't feeling well, or you're having the kids watch a documentary so you won't be in front of the class much, or you are just tired of wearing dresses. It's good to have something to fall back on.
4. While I always hope that all of my shoes are really comfortable, I do like having one pair that I KNOW will make my feet happy.
5. I'll say again that I'm obsessed with balancing loose fitting and fitted. With the exception of dresses (but even then I like it if the bottom half of the dress is less fitted than the top half), I try to make sure the top half of my outfit and the bottom half are different fits.