No joke, this is how I decided on the outfit I wore today.
"Hmmm...I'm so tired...I really don't want to iron."
Pause.
"Oh--I think that one dress doesn't need to be ironed."
Pause.
"So. I'll wear that...and some shoes."
Pause.
"I guess I could pack some jewelry too."
Pause.
"So...to sleep then?"
No joke--half of the time, if you see me wearing a dress, no matter how uncomfortable it may appear, I'm probably wearing it because it doesn't need to be ironed, and it seemed like way too much effort to find a skirt and a shirt that went together.
But, I feel like it's time to explain the back story of my love of dresses. Please amuse me, and let me explain the basic way I came to have my current wardrobe.
Step One: I gained a ton of weight in grad school. Shocking, I know. Stress and lots of time sitting on a couch reading and writing might make one eat constantly for 2 years.
Step Two: During my first year of teaching, I joined the YMCA and slowly got back to a healthy weight.
Step Three: Over the summer, I had to build up a new wardrobe since most of my clothes no longer fit.
I decided that if I was going to basically start from scratch, I might as well up my game. During my first year of teaching, I figured some things out (Note: Plenty of teachers take a completely different approach to their wardrobe, and I respect that. This is just what I decided worked for me.):
1. I resented the idea that all of my friends in office jobs got to wear cute business clothes to work every day. I had grown up talking about ties and suits with my dad, so I had always assumed that I would be getting dressed "for the office" when I grew up.
2. I didn't need to resent those people because nothing was stopping me from wearing those same cute clothes.
3. I wanted my students and their guardians and anyone else who entered my classroom to know that I took my job seriously, and I thought dressing in business attire might send that message faster than anything I could say. There are, of course. plenty of ways to establish that. I just decided that my clothing choices would be how I would establish my ethos.
4. For my students planning on entering a field in which business attire was expected, I wanted to give them an idea of what their wardrobe might look like, especially if their parents were in fields in which they weren't required to wear business clothes to work.
So, all that to say, I'm a huge fan of dresses that allow me to feel professional even if my reason for choosing to wear that particular one is because it didn't require ironing. Even as we speak, I'm deciding if ironing my chinos is too much work. If you see me wearing another dress tomorrow, you'll know I decided the answer was, "Yes!"
As to this dress, I bought it last spring. It's a J Crew Factory purchase, and I'll say again how much I love the way they cut their dresses. I feel like their dresses allow me to feel put together without having to spend much effort. This one doesn't have stretch in it, but I don't really mind because it has enough room for me to not feel trapped. While they don't have this pattern this year, I think these dresses are a similar design:
A linen blend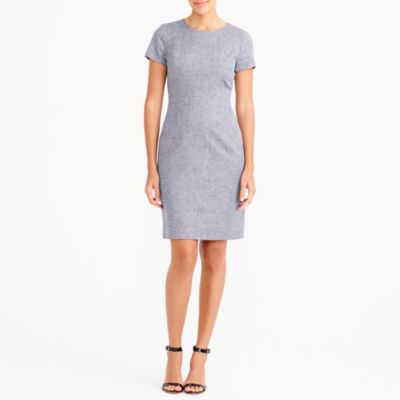 I think this might be the same cut
.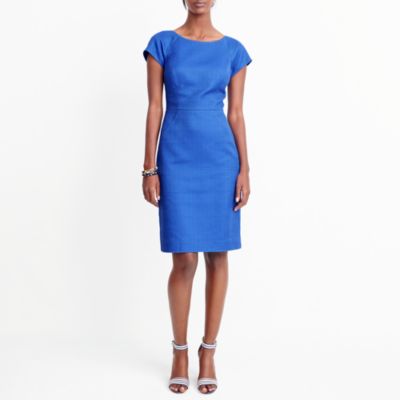 The shoes are actually a bit of a surprise. I always try to have a back-up pair of brown or black shoes. I think I do this so I don't have to wear the same ones every day. This pair was originally purchased in the fall partly because Kate Middleton wears shoes this color (and she's awesome) and partly because I needed a back-up. I think these shoes are about to become the Dak Prescott of my closet.
=
I love them, and they go with everything, and they don't kill my feet. Who knew? So, if you see them on my feet all of the time, you'll know why.
They come in brown and black.
Okay--it's been a bit of a crazy day, so I'll leave you with a few final thoughts:
1. Dresses are your friend. They make deciding on what to wear a million times easier, and they often give off a professional vibe.
2. While finding a company that understands how clothes work for you might take a while, it's worth the effort. If you find a store that cuts dresses in a way that works for you, you can often buy dresses there year after year without much trouble.