I don't typically write about my weekend clothing choices, but Mom and I were a little fancy over the weekend, so I thought I'd include these outfits.
On Friday, Mom and I had, probably, my favorite day of the trip. We did my absolute favorite thing to do when she's in town: we went to school. I often tell stories about my family or pass on my mom's advice during the course of the school year, so it's always fun to let her meet my students and let them ask her questions. My students were so fun and kind, and my mom was really happy to meet them. It worked out really well that my former intern and my former co-teacher were both in my room at one point, so my mom got to meet two people that have been encouragements to me during my time at TC. I took her around to some of my other favorite places in the building, and then we took off.
Since I wasn't technically at work on Friday, I went for a more casual look. I threw on (okay...I did have to iron the shirt the night before...darn you cotton fabrics!) a navy shirt I bought a summer or two ago and paired it with some jeans (no--I don't like these either...I'm still hunting) and a green cardigan. As always--I had mostly neutrals with a colorful item. It's my signature I guess...is that sad?
Here are some similar options for the shirt:
This one is much cuter than mine...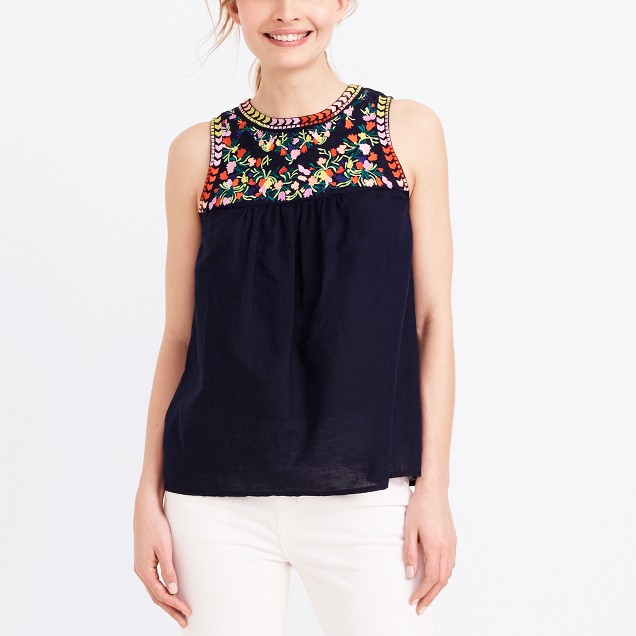 Another option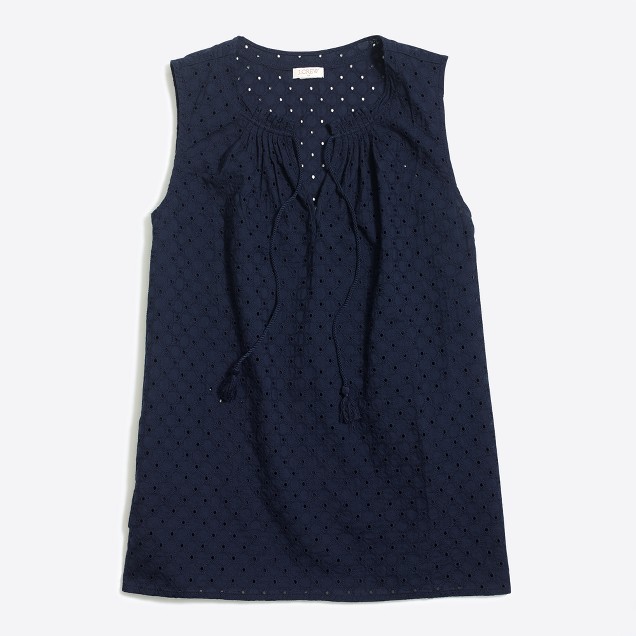 One final option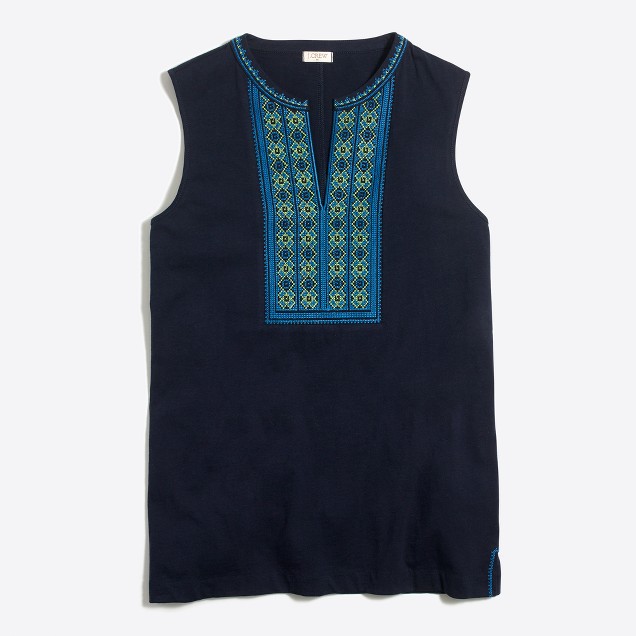 Here are a few long cardigan options:
A summer color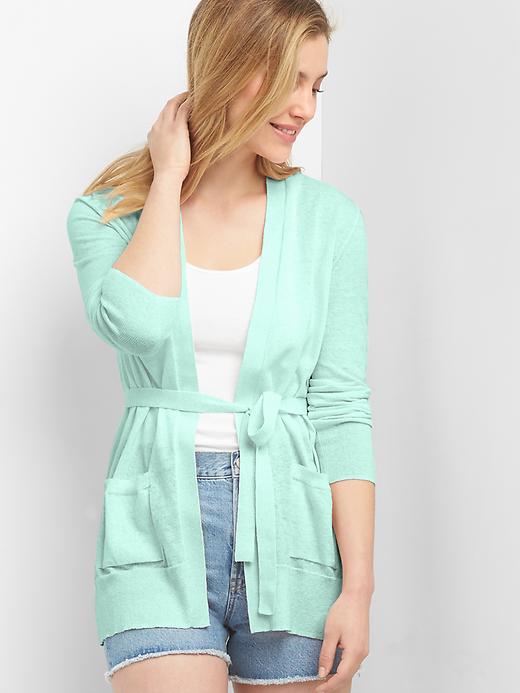 The one I wore on Wednesday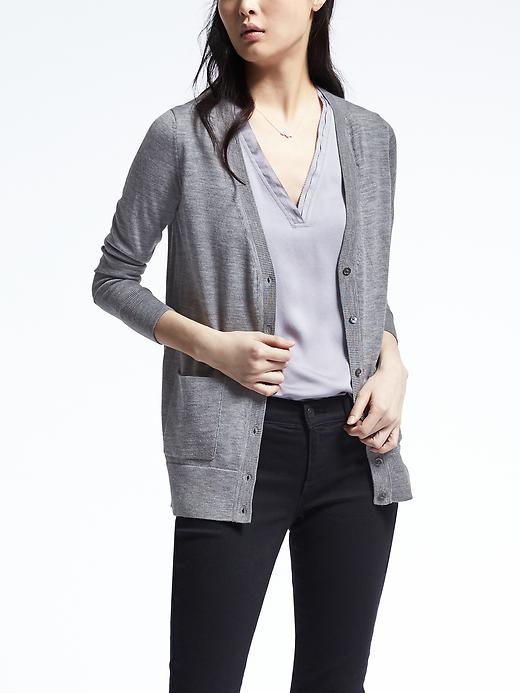 The Birks made another appearance mostly because my feet chant "Birks! Birks! Birks!" every time I start to pick out my shoes. My mom and I were also planning to hit up the mall, so I wanted some comfy shoes.
The highlight of the day was tea at the Ritz. It was ridiculously good and SO fun. Since we don't normally go to tea, especially at a nice hotel, we took full advantage of the opportunity to be girly...and we documented every moment. I'm sure the other patrons mocked us, but we don't know them, so I'm not that concerned.
Given my love of
The Importance of Being Earnest
, I felt required to document my eating of a cucumber sandwich.
Saturday we hit up DC. We went to my mom's favorite restaurant and took advantage of rush tickets to
Macbeth
. One of the things you figure out quickly as a teacher is that you aren't poor, but you also have a tight budget. If you live in/near a great city, it can be disappointing to know that there are all kinds of cool cultural things to do, but you don't have the money to do them...probably because you spent it on glue sticks and Crayons at the beginning of the year. Here are some of the ways I do things even though I'm a teacher:
1. Know who has teacher discounts. J. Crew, Loft, and plenty of other stores offer a teacher discount; it's not much, but every bit helps. And the money you save there can help you pay for other things--like concert tickets or speeding tickets acquired from a trip to the orchard...just sayin'.
2. Know who offers free or discounted experiences. In DC:
--The Shakespeare Theatre Company has discounted tickets for people under 35. And, for old people like me, they have $25 rush tickets 2 hours before the show.
--Some of the museums have a free day once a month or have a yearly pass that is discounted for teachers. The Phillips Collection offers a $50 pass for the entire year--basically the cost of visiting 4 times, and it comes with free entry to all kinds of special events and some guest passes.
--The Kennedy Center has a free concert every night of the year (although some are more interesting than others).
I'm sure there are others--these are just the ones I know.
3. Know where the cheap tickets are. Gold Star (www.goldstar.com) has discounted tickets for all kinds of events. I'm sure there are other discounted ticket companies. I think I got my Clippers/Wizards tickets on Stub Hub for a pretty good price.
4. Know the parks, community centers and other places in your town that offer fun things to do. When I was home last summer, my parents and aunt went with me to learn to shoot a bow and arrow at the nature center. I was completely amused...but maybe I'm easily amused. There's a park in DC that has a group of African Drummers that just get together and drum every Sunday. Dupont Circle is full of fun people watching, and there is a Krispy Kreme near by. Sometimes on a mellow weekend, I'll pack a book, buy a donut and sit in the park.
5. Be willing to sacrifice "good seats" for fun company. While you might not be able to afford the best tickets to the baseball game, cheap tickets can make for a fun night with the right people. It's still a night at the ballgame...and there are fireworks on Fridays.
Anyway--as for clothing choices. I took the opportunity of going to the theatre to break out my new denim dress. I'm kind of hoping that the 90s comeback means I can wear dresses like this all the time. It's so comfortable, and I'm convinced it kept me warm during the play. That might not be backed by science. I had a 50% coupon for Gap, so I picked this dress up on super sale.
This picture is in front of my favorite president (John Quincy Adams). We stopped by the Portrait Gallery after the play.
Here's the link.
: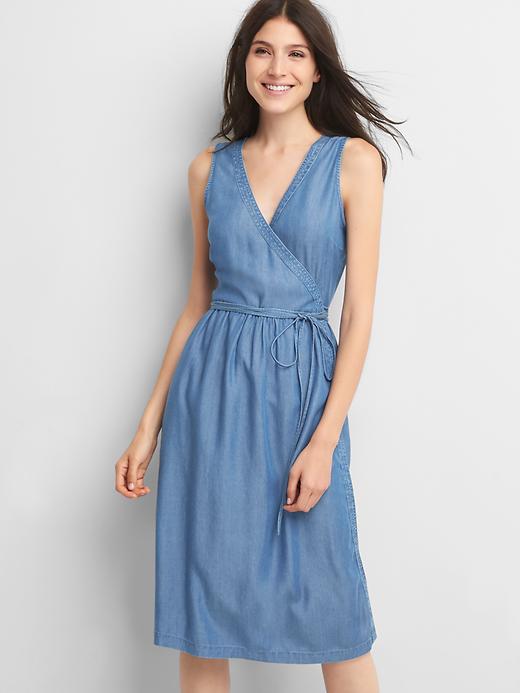 Okay--So, that's the highlight reel of dressing for the weekend. Just thought I'd share my wisdom about being cheap in the city and show you a dress that survived an entire day in the city.