Yesterday was my yearly offering to the track program. Helping out with a track meet in May could mean that you leave with a sunburn. It could mean you are unable to feel your fingers. And sometimes, on really strange days, it could mean both. The Weeknd is wrong--it's not your face you can't feel--it's your other appendages. I love my students, I love seeing my student athletes competing, I love being able to help the coaches that I respect and adore, and I love being able to get to know the parents that come out to help. All of those things majorly outweigh the fact that I don't enjoy the actual work of helping with a track meet. It's so much chaos: slips of paper are everywhere and people foolishly assume I know what I'm doing, and I only help out a few times a year so it takes me a while to remember what I'm doing...it's just not my strongest hour. But, I do like being able to help, and I know that there are so many important programs throughout the school that need so many volunteers in order to keep going. Mainly, I just remember that I was once a teenager that depended on the kindness of strangers, so I try to help out where I can.
This track meet is maybe one of three or four things I will do throughout the year not connected to the activities I'm in charge of. Sometimes I feel bad about that because my self-imposed limits mean I delete emails asking for help. Some day I'll have to get on my soapbox and give my big speech about teachers needing lives outside of school and the need to prevent burn out, but just know that I'm a recovering crazy lady who used to take WAY too much pride in how busy, important and indispensable I was. It was terrible. I hated my life. I felt terrible most of the time. And worst of all, I would start to resent the people/students I worked with because I felt that they demanded too much of me.
When I finally figured out that I was the one who had signed on for all of these commitments, I realized I couldn't be mad at other people when I was the one who said, "Yes" to the offers. When I took some time to figure out how much time I had and which activities took priority, I slowly stepped away from things over the course of a few years, and I took an entire year in which I said, "No" to any new opportunity in an effort to find a sustainable schedule. I still REALLY struggle to keep my life in balance and feel like I often swing from being super focused to being a complete bum, but I am better at owning my schedule, for better or worse. When the smoke cleared and I had set up a more sustainable schedule, I kept a few track meets on my schedule: this one and the one I'll help out with this weekend. I find that even though I think, "Oh dear! What am I supposed to do with these papers?" at least once per meet, I'm less frustrated because the chaos has been built into my schedule and it's not something I'm trying to fit in over an already overcrowded schedule. I still have days when I freak out and get annoyed or seasons of the year when I want to run away and hide because my calendar looks like a smurf bled out on it, but I'm getting better.
If you're anything like me and think you should volunteer for every noble cause, here are my recommendations:
1. Decide how much time/energy you have outside of school. If you are just starting, keep your schedule clear until you know how you are going to manage grading, planning, sleeping, etc.
2. Know what either fits your personality or is most needed.
3. Once you've set up your schedule, stick to it. Know that there are lots of people in your building. As my mom says, you aren't the only capable person around.
So, on to the outfit for yesterday. (I took today off to try to fight off some kind of sinus issue and to get my teeth cleaned, so I am posting this late and not posting today's outfit.) Yesterday morning, my friend Beth came in before class began. Beth is the kind of person that I always look forward to seeing, and she's a person I know I can go to if I want to celebrate or scream. When I noticed we had a common color going on, I thought we should take a picture, so we did. I work with some really stylish people, and Beth is definitely one of them. When she told me her awesome shirt was from Loft and was on sale, I seriously considered an after school trip to Loft.
When I looked online, I couldn't find the same color, but here is the shirt:
Loft
As for my outfit for today, after a few days of pretty comfortable clothes, I went for a bit of a fitted skirt. I have had this skirt for years, and I just keep pairing it with new things. It's not quite as comfortable as it used to be, but it still works. I'm hoping a few more weeks of spin class will make the difference. 😀
Anyway--I'm a fan of skirts like this because they can be re-purposed even when the original outfit is no longer your favorite. It's also traditional enough that it always looks professional, even if it doesn't follow the latest trends. I have 3 or 4 of these in my closet that I've collected over the years. I always know I can throw a blouse and a cardigan with it and be ready for a particularly "teacher-y" day. While these skirts aren't as forgiving as others when I've eaten all of the candy my dad's clients brought him over winter break, they're still pretty durable. Most of the ones I have are dry clean only, so I know that can be a deterrent for many, but there are ways to make dry clean only less of a turn off.
Real Simple
is my reference for things like this. Here are a few of their articles that helped me figure out what to take to the cleaners and how often to take it:
Do I Have to Dry-Clean It?
Instructions for Any Fabric
When to Wash Stuff
As for the top half, I bought the tank from J Crew Factory last season, but here are a few options. The watermelon one is particularly fun, and after I saw a fellow gym-goer wearing a graphic T with her skirt and heals, I've been wanting to try it out.
Watermelon Tank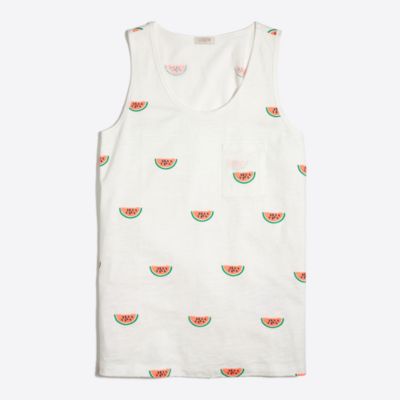 Basic Shell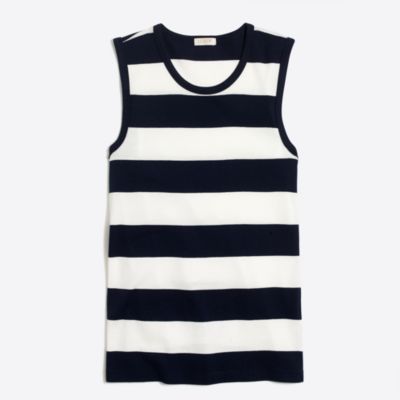 I purchased the cardigan 4 or 5 years ago, and it's also been through several closet rebuilds, shall we say. I love it because it goes with a skirt like this, but it also looks cute with a tank top and boyfriend jeans. Obviously it only makes it for a short part of every season, but that's fine by me.
I can't find a short sleeve one, which might mean mine is now out of style, but here's a light, stretchy cardigan I picked up the last time Banana had a big sale (which, as often as they have sales, could have been yesterday...). It serves a similar purpose of being great for warmer days when you're really just looking for something to keep you from being cold when the AC is blasting or something to cover your arms until the push-ups pay off.
Basic Cardigan
Oh--and here is my best guess at the 2017 version of my skirt.
Basic Skirt
The shoes are Crown Vintage--I love that their things are normally pretty unique, but I have to say that these are man-made material instead of leather, so they aren't as comfortable the ones I showed you last time. But I really like them, so I suck it up. They typically don't hurt until the end of the day, if that helps at all.
Here's the closest I could find for this season.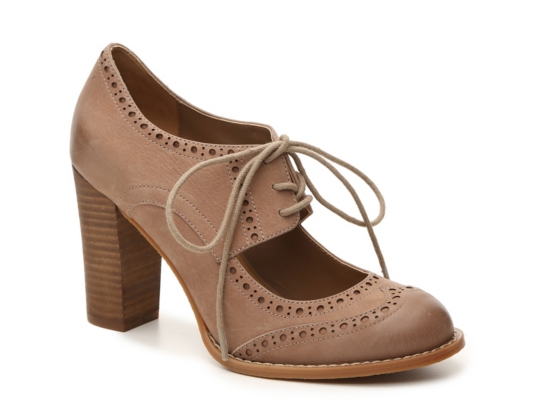 Wingtips
So, here are my tips for today:
1. Especially during my first few years, I wish I would have known the value of well-made basics. I would encourage opting for classic (less exciting) pieces that you can hold on to while you build up your closet.
2. Don't get rid of things when the original outfit is no longer something you like, but don't hold on to pieces you hate. I've found it helpful, at the beginning of each season, to take a bit of time and play with things. This is dorky to admit, but I typically hang up my skirts and then hang up the tops with the skirts/pants that I wear them with. It helps me see when I have shirts or skirts that no longer have partners. Obviously I have shirts that go with multiple things, but this eliminates clothes that I am avoiding or don't like to wear. I have a tiny closet, so I always have to do the wardrobe shuffle twice a year. For those of you with delightfully large closets, I have no suggestions because I'm jealous and don't want to talk about it...
Hope that helps!